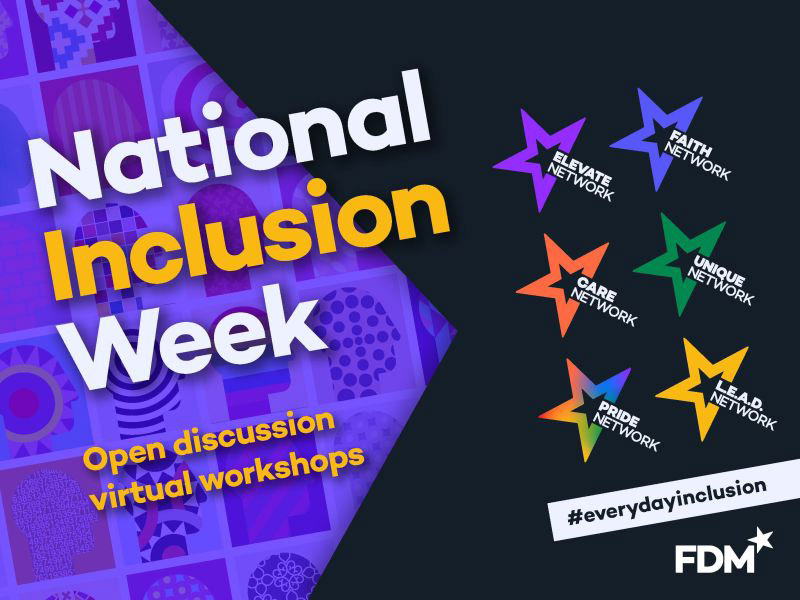 FDMers across the globe joined virtual discussions in recognition of National Inclusion Week (28 September - 4 October). National Inclusion Week is designed to celebrate inclusion in all of its forms, allowing employees of all levels to be part of the inclusion conversation.

Our six employee networks joined forces to conduct virtual discussions on topics around gender equality and faith, caring for those with disabilities and race issues with those in the LGBTQ+ community. Here's what we learnt from these discussions.
Care x Unique Network
•  Although we cannot control a company's diversity, we can control inclusivity 
•  Managers must understand that parents and caregivers may require more flexible working conditions
•  We must work towards creating educational tools to best enhance an inclusive working atmosphere
Pride x LEAD
•  The way in which we view racism and homophobia in countries differ. How can we portray this in the workplace?
•  
Code switching
: when a person alternates between two or more languages, language varieties or informal mixtures of languages. Many people within the BAME community tend to make their accents less obvious for fear of not being taken seriously. How can we combat this?
•  We must hear from our BAME and LGBTQ+ colleagues and understand their struggles whilst educating allies on ways to support
Faith x Elevate
•  Men can make comments to challenge views, but if a woman does the reaction tends to be different
•  Culture and faith are intertwined at times. Views on various religions have been affected by everything currently happening across the globe regarding liberation and freedom
•  Experiences with how men have included women in their religious communities and how their faith has supported them
October is Black History Month in the UK and FDM will continue the movement towards global racial equality. The LEAD Network are hosting more virtual discussions around Black Lives Matter and racial inequality over the coming weeks. We ask that you keep an eye on your FDM email for information regarding upcoming events so that you have the opportunity to have your voice heard - because your voice matters.