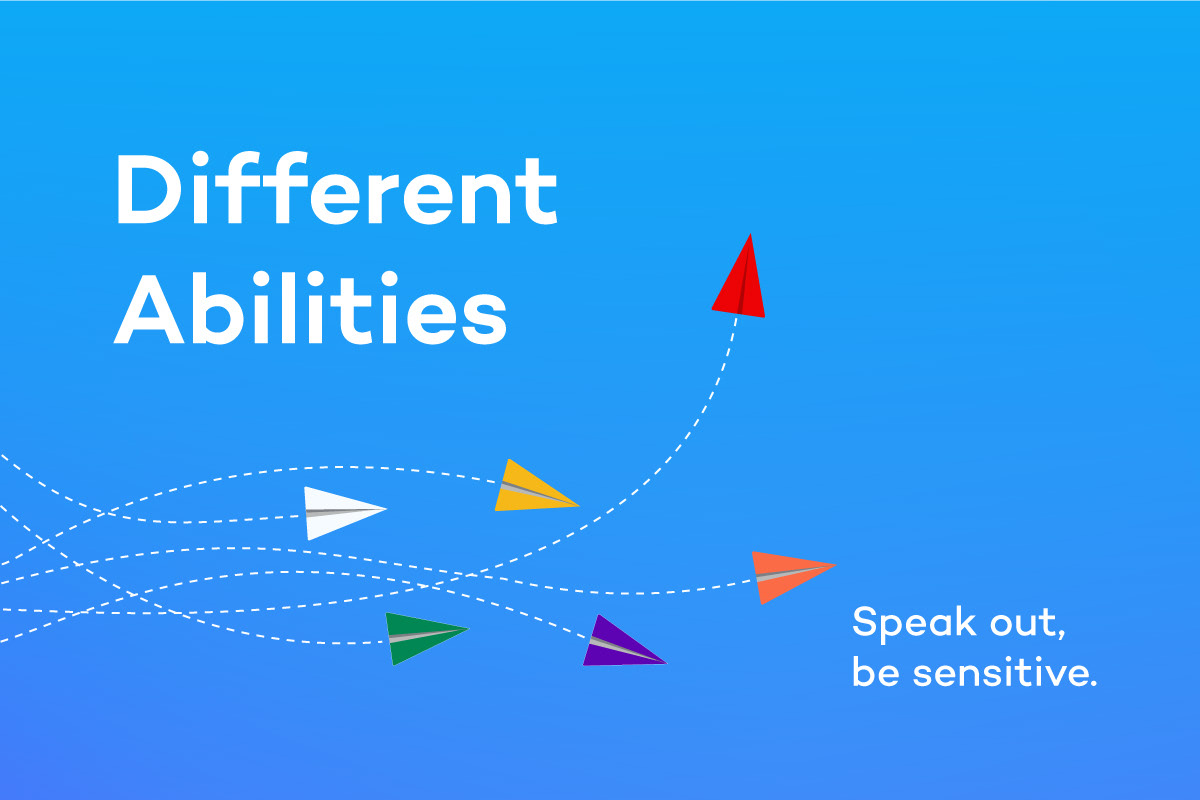 Different Abilities or Disabilities?
When developing this training, we wanted to emphasise the importance and value of different abilities within an organisation and focus the learning on inclusion and celebrating different perspectives. We also came to understand the scope and variety of disabilities from those with a physical disability such as hearing impairment and loss of limbs to the disabilities those we cannot see such as Autism, Dyslexia and Chronic Fatigue Syndrome, to name but a few. It became obvious that we could never fully understand all these areas and that really is the point – the only person that can understand a disability is the person themselves and they are the people who are best placed to help and advise.  
So, what can we all do to make the experience at FDM the best it can be?   
Speak out.
 We found out that only 11% of students disclose that they have a disability (source Office for Disability Issues) and this happens for a variety of reasons including fear of rejection and concerns about being judged. We need to create a safe space where people feel that speaking out is a positive thing. For those of you with a disability, speak up and help us to understand your perspective, what you need and how we can make your experience more valuable. Our Unique Network is already running events around this and the more people that will get involved, the greater the understanding and learning will be. I would encourage you to join if you have something to share and to come along to learn if not. I have certainly grown in knowledge since attending their events. 
Be sensitive.
  Ask the questions, definitely, but asking someone "Have you got a disability? And can you prove it?" is like telling a large person that they are fat – it's just not on! Instead ask "How can we best support you?" and don't be frightened of using everyday language. A person who can't see, is not going to be offended if you say, "See you later" and someone with a hearing impairment isn't going to worry if you say, "Yes I hear you".
Remember that you can't always see a disability and sometimes people will develop an illness which leaves them disabled later in life, so empathy is very important as well as understanding and ensuring that everything we do is as accessible as possible. 
Finally, I think we have a crucial role to play in helping our clients to see the possibilities and appreciate the value of different perspectives and approaches. Many organisations are active in pursuing an agenda for equality and diversity, and by being inclusive ourselves and understanding and celebrating our own diversity, we can support our clients and create more opportunities for consultants. 
Seek to understand, be sensitive and remember that everyone has something of value to offer. By seeing things through the eyes of another it can only make our own lives richer. 
- Melinda Dixon, Head of Learning and Development 

Interested to learn more about sign language? Check out the British Sign Language alphabet and contact your local People team for further information.