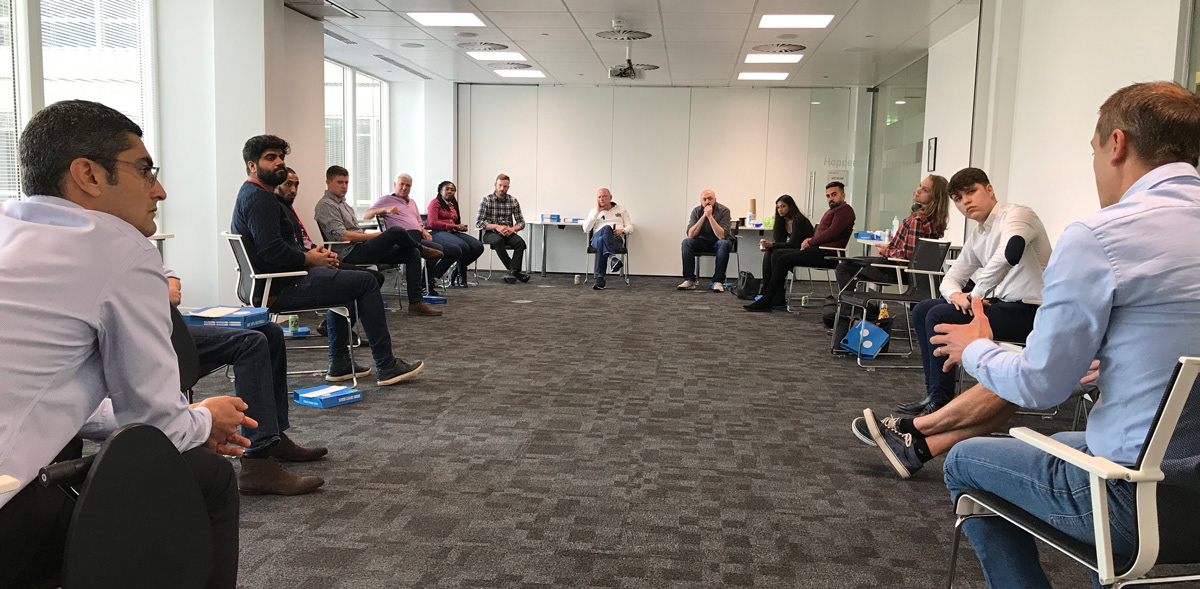 FDM has introduced a Pods training concept, a cutting edge approach in upskilling our consultants through Agile learning.
Hands-on learning:
 Consultants face new challenges in the course of their work, which has been proven to be an effective reinforcement of skills pick up and retention 
Gain industry-relevant experience:
 The consultants will deliver industry-type products in a realistic environment 
Fail Safe Environment:
 Working in the Pods encourages the consultants to learn lessons in a safe environment 
Cross-functional awareness:
 Consultants will work across various functions, allowing them to learn from each other, whilst understanding other mindsets and perspectives from roles across the SDLC 
Agile Best Practice:
 The Pods are strictly running to the Scrum Guide, meaning that consultants will understand best practice of Agile 
Relevance to Business Domain:
 Consultants will be kept up-to-speed in the industry they may enter, ensuring that they are readily available to make a positive and immediate impact on their next client assignment  
We are already starting to gain some traction from multiple clients.
220
consultants have gone through Pods.  
40+
​​​​​​​consultants have been placed from the Pods,
including one full team for a financial services client.
FDM organised a session in the London centre attended by our CEO, Rod Flavell, along with Andy Brown (CCO), Jonathan Young (CIO), Product Owners throughout the business and 10 consultants who are currently working within FDM's new Pod model. The aim of the event was to bring everyone together to share ideas on how to improve the overall Pods experience.
During the insightful session the management team had the chance to hear about the consultants' stories and suggestions, and provide clarity on the steps FDM will take in terms of new working arrangements. 
Find out what our consultants from the session have to say about Pods.
"I think the Pods are the best thing that came out of working remotely. Working in Pods as part of a team requires you to be continually involved and to talk to them on a daily basis. It really drives purpose and motivatio

n, and I think this is what consultants need, especially in these circumstances."

"The Scrum environment in which we are working is a collaborative environment – when going on-site as a Developer, you will not be working with other Developers, so working in a Pod is very helpful as you are required to work and collaborate with other members of the team who cover different roles and you've never met before. It's also interesting because all Pod's members come from different backgrounds; some of us come from training, while some others are more senior consultants in their second or third year, so they have different levels of experience. Everyone comes from different locations too, and I think that's where the working from home aspect becomes really effective, as you can pick skills from any pool." 

"Training prepares you from a theoretical perspective, but the Pods provide you with a simulated experience of how working in a Scrum related environment is really like. For example, as a BA working in a Pod, I have to get all the requirements for the project, assimilate the data and be able to explain it to a Tester. You learn how to empathize with different roles. In Pods we do 'pair programming', which consists of a Tester and a Developer working alongside, which makes it easier for the Tester to understand the thought process of the Developer and vice versa. It really enhances the overall learning."