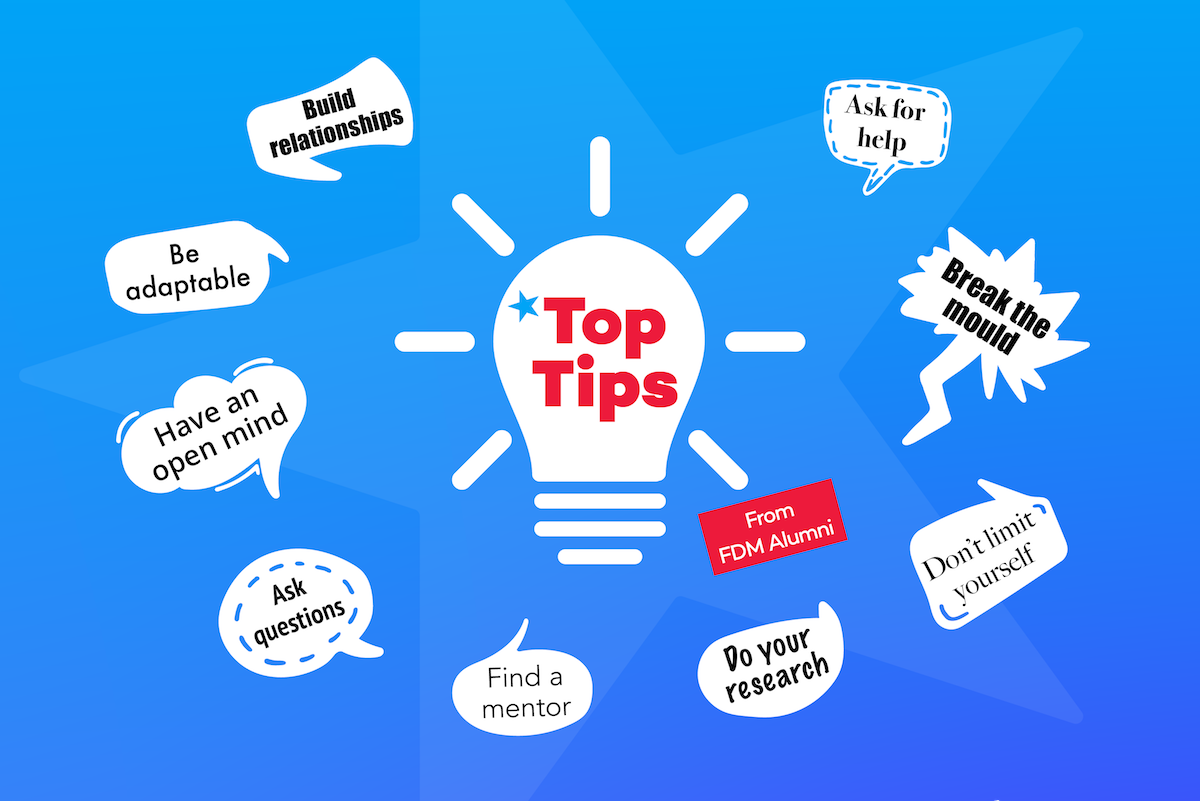 Whether our consultants completed their time with FDM two weeks ago or half a decade ago, our alumni network is there to offer support. We caught up with FDM Alumni from across the globe for insightful tips on how to build a successful career. 
"

Change
 Management
 is the biggest challenge when it comes to delivering a project – make sure you are always adaptable to change."  
- Ray Cheng, FDM Hong Kong   
"
Have an open mind
and grasp new opportunities. Technology is constantly changing, so adaptability is crucial to keep up with it." 
- Alexander Halliday, FDM Switzerland  
"
Don't limit yourself
to what they teach you in class. Work on personal projects or participate in open source projects. It will help you hone your skills and it will look good on your resume. Go the extra mile!" 
- Michael King, FDM Sydney  
"
Start building relationships
as soon as possible. This is done by introducing yourself to everyone and speaking to them in a respectable tone."  
- Leona Mallace, FDM Glasgow  
"
Don't be afraid
to try and break the mould! With the right support around you, you have nothing to lose – go for it!" 
- Natalie Banfield, FDM Brighton  
"
Do plenty of research
and find out about the company before you join - find out about their clients and what they do. Ask lots of questions and make sure it's the right fit for you."   
- David Hush, FDM London  
"
Always ask for help
. People are happy to answer questions and to give guidance, both on-site and at FDM. Be flexible – technological jobs can involve long nights and weekend work so although the satisfaction is there, you need to be prepared for everything."  
- Kate Oliver, FDM London  
"
Step out of your comfort zone
. Take the opportunity and learn as much as you can, ask questions as often as you can and get to know as many as people as possible. It will all be worth it." 
- Harvey Zhao, FDM New York  
"
Find a mentor
who can help guide you in your team. While working, show your enthusiasm and put in effort to grow." 
- Saumil Parikh, FDM Toronto