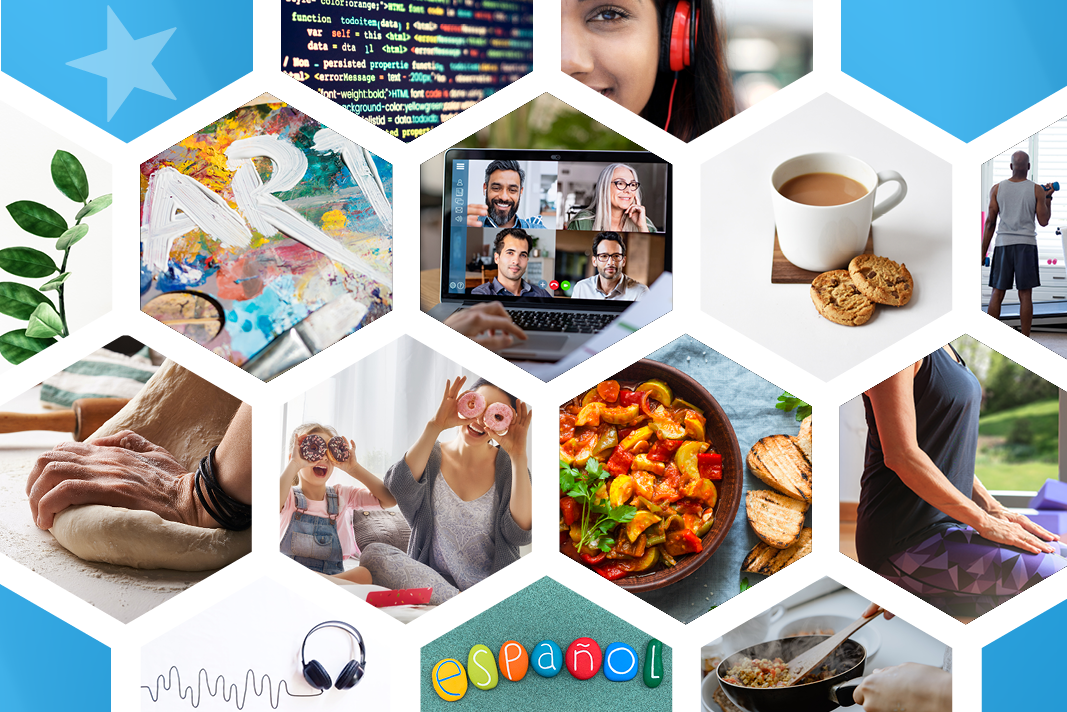 FDMers across the globe have shared their favourite resources for maintaining a healthy mind and body during this uncertain time. If you know of any additional platforms that fellow FDMers can benefit from please post these in SAP JAM, FDM's social collaboration site, accessed through your SuccessFactors tile homepage. 
Connect with family, friends and colleagues beyond FaceTime, Skype, WhatsApp and SAP JAM by checking out these interactive video chat apps: 
Zoom is a video conferencing platform that allows you to chat one-on-one or with large groups of people. Please note that with the free plan there is a 40-minute limit to meetings with 3 or more participants. This is a strong app for getting the family together. 
Houseparty allows you to connect with large groups of friends or family using Chrome, iOS, Android, or macOS. Unlike Zoom, Houseparty focuses on social elements allowing you to play virtual games or quizzes together.  
Please note: The app's privacy policy has recently come under scrutiny; anything you create or share in the app is owned by Houseparty and can be used for advertising purposes.  
Keep an eye out for FDM's Virtual Events calendar which is being sent out weekly with a variety of free online activities for you to stay connected with your colleagues.  
Continuous learning is a great way to make use of your time. Check out our Professional Skills + Group on SAP JAM, and delve into these learning resources: 
Ever wanted to learn Spanish, but never quite found the time? Duolingo currently has 27 languages available to learn, from German, French, and Spanish, to Japanese, Korean, Russian, Swahili. 
The Institute of Coding has 55 free online self-directed learning coding courses. The courses are engaging and accessible for wannabe developers of all levels of technical knowledge.  
Art is an excellent therapeutic tool for giving a busy mind a bit of peace. Drawspace has a wide range of classes and downloadable resources, some from renowned artists, that has beginners and professionals covered. Learn gradients, how to sketch a self-portrait, portfolio creation and more.  
It's proven that staying fit and active boosts your mental wellbeing. Here's a few of our favourite trainers and where to find them: 
The 7 Minute workout is scientifically proven to give an enormous boost to your fitness levels. It's a high-intensity (HIT) workout that doesn't require any special equipment or weights, all you need is a bit of space, a chair, and a wall. You can download the free app on Android, iOS, or follow it online.  
Yoga is an excellent way to gain flexibility as well as build strength. It is also excellent for maintaining a healthy mind. The Down Dog Yoga app is slick, well-designed, and easy to follow with lessons for beginners to expert.  
BarrysUK is now offering virtual workouts via his Instagram channel. Workout with hundreds of other fitness fiends at home with the guidance of a professional. Head on over to Barry's channel to find the times of the new Instagram live session. 
Families will find the closure of schools and play areas hugely disruptive while working remotely. Read on for a selection of the best educational resources to for kids of all ages: 
Perfect for toddlers, featuring lots of games, lessons, and TV and radio shows for the very young. 
Provides a range of free lessons and activities designed to help young children read, write and talk during the coronavirus outbreak.  
Provides perfect place to foster an interest in STEM from a very young age. Kids can learn how to create bottle rockets, design a guitar, learn how sound or electricity works and more.  
It's essential for your wellbeing to give yourself time to switch off. Here are some resources to help you disconnect: 
The world's largest virtual library has removed check-out restrictions, meaning you can digitally borrow any of their vast collection of digitised books. The library includes classics such as the Iliad, Great Expectations, and Frankenstein, to modern classics such as Catch-22, His Dark Materials, Harry Potter, and Lord of the Rings.  
Rather be read to than read? Audible covers entertainment, art, education, the old and the classics! 
Meditate and relax with the help of guided meditations, soothing music and bedtime stories. 
I don't know about you, but the thought of all these activities has given me a bit of an appetite. Here are a few tasty tidbits to get your taste buds tingling: 
Italian Michelin star chef Massimo Bottura is streaming family mealtime cooking on his Instagram channel each night. Learn how to make green vegetable curry, tortellini in creamy sauce, and other store cupboard winners on his channel! 
Influential vegan cooking behemoths Best of Vegan host regular cooking lessons on their Instagram feed, and also serve as concrete proof that vegan food can be extremely varied, delicious, and easy to prepare.  
Baker and food writer Edd Kimber will help you to make that perfect sourdough. His channel is filled with excellent and easy to follow recipes for breads and other incredible baked goods. The pictures alone are guaranteed to encourage you to dig out some yeast and dust down your baking tins!